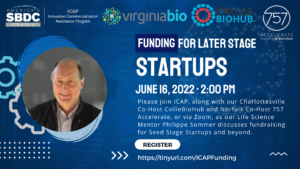 Life Science Mentor Philippe Sommer will be discussing funding for companies at the Seed Stage and beyond.   Ways to participate live and virtual below.
Register here.
Live Charlottesville session with our co-host CvilleBioHub.
In-person viewing opportunity in Norfolk with our co-host 757 Accelerate and follow-up discussion led by ICAP's Life Science Mentor William McPheat.
Join virtually, with Life Science Mentor Liz Pyle facilitating a discussion via Zoom.
Location – In-person options in Charlottesville and Norfolk, as well as attending via Zoom