We will highlight the many accomplishments and the significant players of the last 2 years. We'll provide a stage to learn about dozens of exciting new companies and technologies under development in Virginia and meet the people behind them.  We will spotlight the thriving and diverse medical device / medtech industry, featuring dozens of Virginia companies, big and small, and translational researchers from our research universities and health systems, and national experts.
We will highlight technical, commercial and clinical innovation and neuroscience research which offer new hope in the battle against addiction and opioid crisis, featuring an extraordinary statewide private / public collaboration.
We'll bring the experts together to explore the opportunities to accelerate biomedical research, health care and commercial life science development by leveraging the state's global leading and unique data science, data network and AI assets.  We'll bring national thought leaders to keynote. We'll provide plenty of opportunity for networking.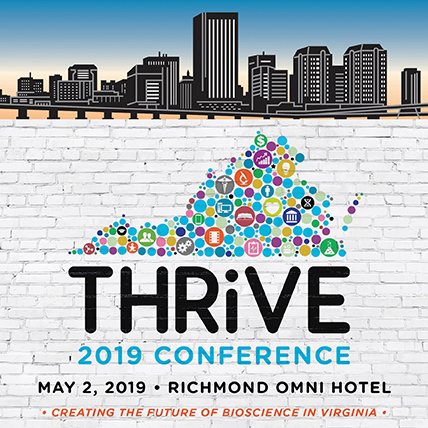 2019 Thrive Agenda
7:30 am – 8:30 am
Registration, networking and breakfast
8:30 am – 8:50 am
Welcome and Goals
State of the Industry and Accomplishments of the last two years
8:50 am – 9:20 am
Virginia's Big Data, Big Connectivity and AI providing global opportunities for R&D, commercialization and transformative economic development
9:20 am – 9:40 am
Regenerative Medicine: My Journey: Dan Hathorn, Director, Business Development, Embody LLC, retired Chief Petty Officer, Naval Special Warfare
9:40 am – 9:55 am
Headliners!
2019 National NIH SBIR/STTR Conference, US DHHS
VCU Health Innovation Consortium
iTHRIVE – Statewide Clinical and Translational Research Partnership of Inova Health System, University of Virginia, Virginia Tech, Carilion Clinic and affiliate Partners
Virginia Catalyst new round of grants for commercialization of biomedical innovation
9:55 am – 10:15 am
Networking Break
10:15 am – 11:20 am
The promise of Virginia innovation to impact the Addiction/Opioid Crisis
11:20 am – 11:45 am
Keynote – Opportunities to address the biomedical needs of the US Military: Captain Joseph V. Cohn, Chief, Research Program Administration Division, Research & Development Directorate, Defense Health Administration
11:45 am – 12:00 pm
Outstanding Contributions to Life Science in Virginia
12:00 pm – 1:00 pm
Lunch
1:00 pm – 5:00 pm
THE DYNAMIC MEDICAL DEVICE AND MEDTECH INDUSTRY IN VIRGINIA
1:00 pm – 1:40 pm
The Med Device/Med Tech industry, its economic impact, scientific and technical traits, key players and successes
1:40 pm – 2:00 pm
Keynote – Developing Innovative Technologies to Improve the Lives of Patients around the World: Eric Major CEO of K2M; President, Spine Division Stryker
2:00 pm – 3:30 pm
SUPER PANEL – Accelerating success in commercializing medical technologies
2:00 pm – 2:30 pm
Getting Started
2:30 pm – 3:00 pm
Getting Funded
3:00 pm – 3:30 pm
Getting Revenue
3:30 pm – 3:45 pm
Networking Break
3:45 pm – 4:15 pm
Keynote – National Perspective and Federal Issues: Scott Whitaker CEO, AdvaMed
4:15 pm – 5:00 pm
Universities and Health Care Systems building the industry with talent and technology
5:00 pm – 5:15 pm
Conclusions on the Day and Moving Ahead
5:15 pm – 7:00 pm
Reception