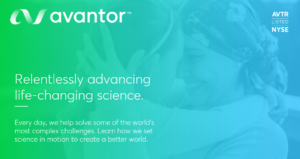 Join us for the second in a series of informational short capability sessions that focus on specialty programs within Avantor.
This second session will provide an overview of our Bioprocessing Single-use capabilities as well as our Controlled Environment products.
From molecule discovery to complete fill and finish, Avantor®'s bioprocessing solutions focus on what matters most for your operations.
In our Avantor single-use solutions product line, we offer complete design, manufacturing and logistics to support every stage of your biomanufacturing process.
Cleanrooms & other controlled environments require a host of specialized products.  Avantor has the product and supplies you need to maintain cleanroom standards.
The benefits of the Avantor BIO cost savings program, available through VaBIO, provide you the ability to be competitive in the market & get the most out of your funding dollars.
*** Note, if you do not use TEAMs, just click on the phone number after you click JOIN EVENT and it will add you to the audio as well as visual part of the session.***