Three life sciences professionals will present mini-case studies tracing a product from concept to commercialization.
From Product Design to Manufacturing Line: Best Practices and War Stories
How does an idea move from concept to manufactured product? At the November Monthly Speaker series, three local life sciences professionals will each present a short case study tracing an existing product from research and development origins, through product design and testing, to commercial manufacturing. What lessons can current entrepreneurs learn from their experiences?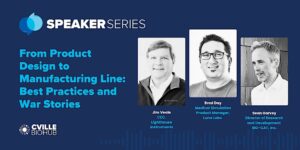 Speakers:
Jim Veale
CEO, Lighthouse Instruments
Jim earned his PhD in Atomic, Molecular and Optical Physics from UVA in 1994 and founded Lighthouse Instruments in 1995. His research and business interests focus on developing laser spectroscopy applications for unmet needs in the pharmaceutical industry. Jim will present on The FMS Headspace Oxygen Analyzer.
Brad Day
Medical Simulation Product Manager, Luna Labs
Brad received his B.S. in Biology from Truman State University and worked in clinical genetics laboratories in both university and industrial settings before joining Luna Labs in 2006. His work at Luna Labs has focused on hemostatic agents, blood-contacting surgical biomaterials and medical devices, with a primary focus on medical simulation research and product development. Brad is the primary inventor of TrueClot® Blood Simulant, a patented, ultra-realistic simulated blood used for training EMS and military first responders in advanced bleeding control techniques. Brad managed all aspects of its development into a commercial medical simulation product. In 2018 he completed an EMT course and has designed or co-designed several trauma simulator devices. He has extensive experience with EMS, military and medical trade shows and has led and assisted with bleeding control training events across the country.
Sean Garvey
Director of Research and Development, BIO-CAT
Sean Garvey is an experienced molecular biologist, nutrition scientist, and microbiome enthusiast with a proven track record of industry-university and CRO partnerships that drive nutritional and natural product innovation. Sean obtained his PhD in Genetics & Genomics from Duke University, followed by postdoctoral research at UVA from 2007–2010. Sean's industry career began with Abbott Nutrition in Ohio, where he held positions in Discovery R&D, Technology Assessment, and Scientific Affairs across 7 years. For the past 3 ½ years, Sean has directed in-house preclinical research, clinical development, and IP portfolio management of microbial digestive enzyme solutions at BIO-CAT, Inc., in Troy, Virginia. A native of the Green Mountains of Vermont, Sean is often found on weekends walking the Appalachian Trail and its side trails west of Charlottesville. Sean will present on the OPTIZIOME® P3 HYDROLYZER™ food ingredient.