Women Building Bio 2022
Extending the Pathway
Join us for the 7th Women Building Bio Conference to learn, network, and get inspired in a one-day event brought to you by Virginia Bio.
This year, we will meet under the slogan "Extending the Pathway" to honor women in life sciences and their unforeseen challenges during the past two years to find the path forward. We will bring together female leaders and leaders who have worked with women in the life sciences field. Attend and get encouraged and motivated by a story that resembles your own experience, discover new opportunities to grow your career in the life sciences world, or find your new mentor. Lastly, share your experience with the attendees and help us understand better what it means to be a woman in the biotech industry today and how past experiences transfer into future aspirations.
September 29, 2022 
8:30 am – 3:30 pm
Old Dominion University's Chartway Arena
Norfolk, Virginia
If you are interested in event sponsorship, please contact Frank Wilton.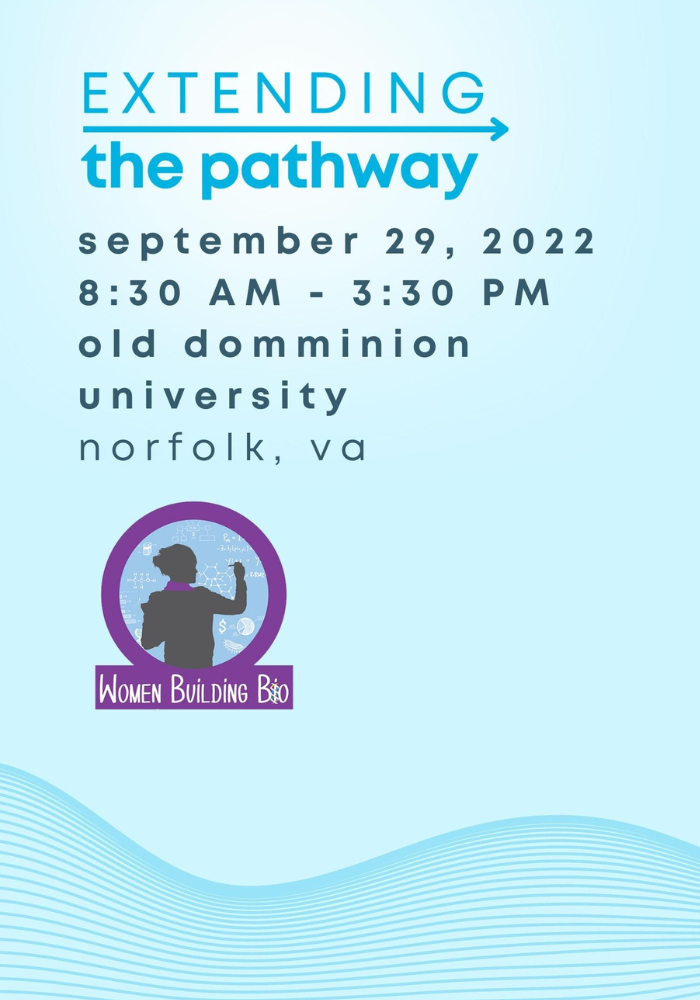 CONFERENCE AGENDA:
8:30 AM
–
9:00 AM
Networking Breakfast
9:00 AM
–
9:15 AM
Welcome from Virginia Bio and Hampton Roads
John Newby (Virginia Bio)
Robert Wojtowicz (Old Dominion University)
9:15 AM
–
10:00 AM
Reveal the Region
Monique Adams (757 Angel)
Devin Cowhey (City of Virginia Beach)
Grace Festa (VEDP)
Kevin Leslie (Hampton Roads Biomedical Research Consortium)
10:00 AM
–
10:45 AM
Female Founded Start-Ups
Sheila Corcoran (Evizia)
Elaine Horn-Ranney (Tympanogen, Inc.)
Evans McMillion (757 Accelerate)
Arti Santhanam (Maryland Innovation Initiative-TEDCO)
11:05 AM
–
11:15 AM
Organization Spotlights
11:15 AM
–
12:00 PM
Growing the Life Science Ecosystem
Chandra Briggman (Activation Capital)
Elizabeth Whalley Buono (Phlow)
Sara Dunnigan (GO Virginia)
12:00 PM
–
1:15 PM
Lunch and Networking
Cynthia Romero (Eastern Virginia Medical School)
1:15 PM
–
1:30 PM
Organization Spotlights
1:30 PM
–
2:15 PM
Clinical Trials/Research
Amy Adams (GMU Institute for BioHealth Innovation)
Lara D'Antonio (Virginia Commonwealth Clinical Research Network)
Xiaofei Qin (LifeNet Health)
Harsha Rajasimha (Jeeva Informatics Solutions Inc.)
Adam Taliaferro (Bristol Myers Squibb)
2:35 PM
–
3:20 PM
Female Leaders – Discovering the Path
Caroline Kennedy (MITRE)
Elizabeth Sharlow (KeViRx)
3:20 PM
–
3:30 PM
Conclusions on the Day and Moving Ahead
Thank you to our sponsors!