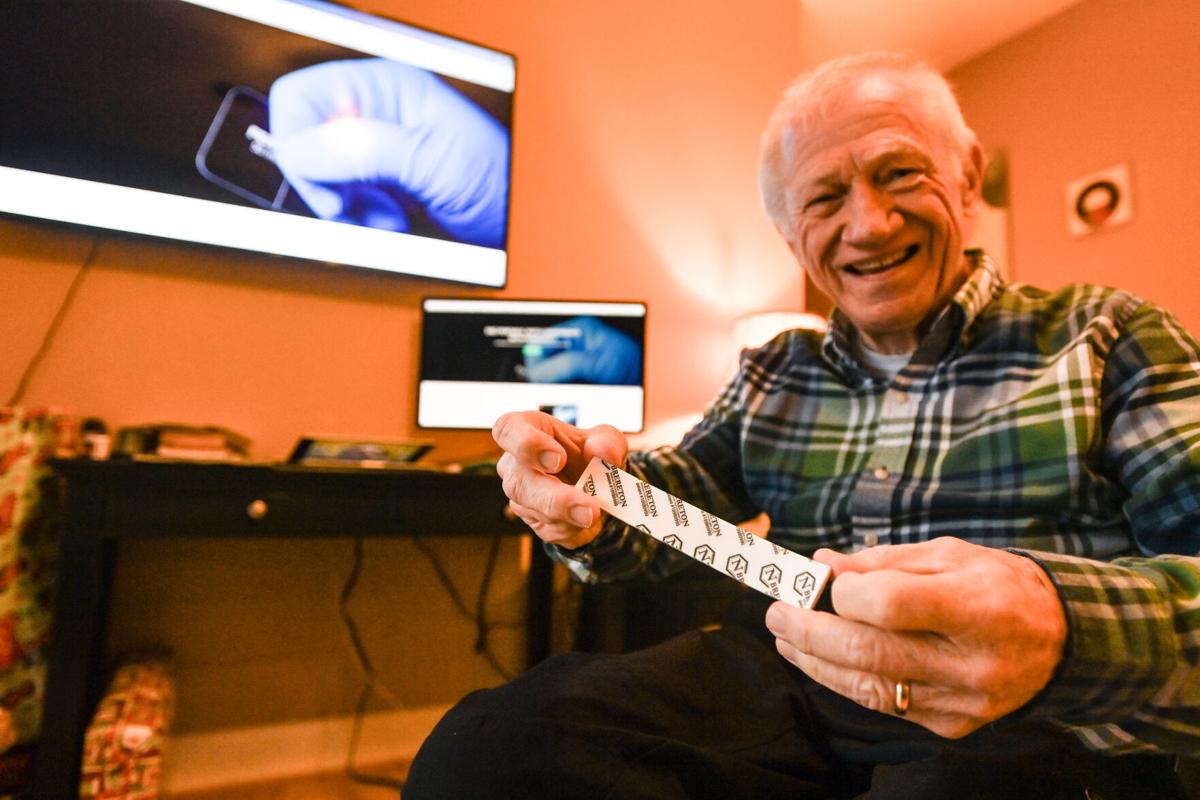 Forest, VA /The News and Advance/ – In 2011, Forest resident and former auditor Neil Jackson was diagnosed with chondrosarcoma — a type of cancer that affects the bones and joints. It is a rare cancer that accounts for about 20% of bone tumors.
After undergoing life-threatening surgery and surviving, Jackson, now 73, was in insurmountable pain. He was prescribed morphine and codeine-based drugs including Oxycontin, oxycodone and hydromorphone.
"And then I had 100 micrograms of fentanyl transdermal going through my chest every hour," he said.
Fentanyl is a synthetic opioid that is 50 to 100 times stronger than morphine, according to the U.S. Drug Enforcement Administration (DEA). Pharmaceutical fentanyl was developed for pain management treatment of cancer patients, applied in a patch on the skin. Because of its powerful opioid properties, fentanyl also is abused.
According to the U.S. Drug Enforcement Administration, fentanyl is driving the nationwide overdose epidemic. The Centers for Disease Control and Prevention estimates that in the 12-month period ending in October 2021, more than 105,000 Americans died of drug overdoses, with 66 percent of those deaths related to synthetic opioids such as fentanyl. Last year, the United States suffered more fentanyl-related deaths than gun- and auto-related deaths combined.
Jackson said fentanyl patch dependency typically forms within two weeks from the onset of prescribed use.
He invented FenBlock to give people control and the freedom to get off fentanyl using their own time line, managing the process themselves without judgment and with their health care provider's support.
"It carries a burden because you're known to be an addict if you're addicted to something and so you really want to not call yourself addicted, so that you don't have that baggage that you're carrying, even in your brain. So you say I'm dependent and there's a very thin line but I was addicted," he said.
So he decided to do something about it and created FenBlock, a prescription-based, self-controlled device that blocks the flow of fentanyl from a patch.
FenBlock blocks the flow of a transdermal liquid from a fentanyl patch and can be cut into various sizes depending on the amount of the drug a patient is trying to wean off of. The patch is placed in between the fentanyl patch and the skin.
The device is currently pending approval from the U.S. Food and Drug Administration and, if approved, would be available with a prescription from a doctor.
Jackson was prescribed the fentanyl patch after his surgery, but he didn't want to endure residual pain as he stopped using it.
"I wanted to be able to enter that area and say, 'Too much, I've got to stop. I went far enough,'" he said. "I'll stop and breathe, restart this process in maybe a month from now or two months. I can manage my timeline. If I went to a different patch size, I wouldn't be able to manage my timeline. So I came up with this idea and it worked. And in 14 months, I'm off of fentanyl."
John Hart is an advisor for Jackson and a board member for Virginia Bio, a biomedical organization that works to promote innovation and growth through networking, advocacy, and capital investment.
He has experience in medical devices with companies including Johnson & Johnson, what is now Medtronic and Stryker Corporation. In the last 20 years he's been the CEO for venture startups and mid-level medical device companies.
Hart thinks FenBlock is a simple, elegant solution to help people wean off a fentanyl addiction.
"There's a number of people that get addicted to fentanyl or opioids based surgical procedures, and that's Neil's story, he got addicted to fentanyl and realized that it was starting to take over his life," he said.
FenBlock blocks the fentanyl patch in percentages and eventually allows a person to wean off of it.
Hart said it's a non-medical, unobtrusive device that can be easily used by anyone who wants to end their addiction.
Jim Parker, an advisor for FenBlock, met Jackson after the two were put in a group assisting University of Lynchburg's Doctor of Physical Therapy students. Parker had a cerebral hemorrhage in 2013 and was volunteering himself to let students practice on him a few years afterward, and Jackson was doing the same.
"A few of us guys used to meet in my garage because it was a nice place to sit, and Neil is in [a] wheelchair and couldn't get around too well, so he could park the van in Parker's garage and come straight in," Parker said. "We started meeting there and talking about the world in general, and at one point Neil mentioned he was in the process of starting FenBlock."
From there, Parker watched Jackson's progression and had seen him over a period of many months where Jackson had gone from being a 7-year addict to weaning himself off the fentanyl patch and other medications.
"I suggested to Neil that the process and device was patentable and the process was something that people could use," Parker said. "This would really work for people who are really truly interested in weaning themselves off fentanyl and that's where it's been developed around."
Parker said he has seen it personally work as he's watched Jackson use it and even though he had some back slides and it was a difficult process, Jackson is clean now.
"It's a tapering process and it's lifesaving in that respect, because eventually the opioids will kill you if you stay on them," Parker said. "There's hope that it can and will work and this device is a simple way to go about it."
After seeing a local news segment about Alleghany County Sheriff Kevin Hall's push to end the opioid epidemic, Jackson reached out to ask if Hall would support FenBlock.
Kevin Hall and his son, Ryan, created a documentary, "Heroin: Broken Dreams, Ruined Lives," in 2017 after Ryan Hall became addicted to opioids after a sports injury, which led to an addiction to heroin. Ryan Hall ended up spending time in prison but has been clean for five years now, his father said in an interview with The News & Advance.
About a month ago, Jackson reached out to Kevin Hall, who has spent 36 years as a drug task officer and has become an expert on the opioid crisis.
"He wanted support of this product so people could get themselves clean," Hall said. "I have looked at it, and I think it's another tool for the toolbox for people who are addicted. This would be a blessing to get people weaned off it."
Hall said he wants people to know if this is a medically viable option, there is hope.
"When you take away someone's hope, you take away their desire to do better, change their life and get clean," he said.
Read more here.