Members and Friends,
Despite confinement and exclusively virtual communication with colleagues, investors, and customers for the better part of two years, our Virginia life sciences eco-system has had a productive run. We've assisted in the global fight against the pandemic, we've innovated and developed new technologies, drugs, and treatments, and we've continued to build our businesses. We've done well for ourselves, but we've also recognized the importance of face-to-face meetings, especially for your sales pipeline.
As you emerge from your COVID-19 chrysalis and "get back out there", turn to the Virginia Economic Development Partnership's (VEDP) International Trade resources to help you map out and execute your international strategy. A new McKinsey & Company article Building a global biotech: Taking a first-time launch into international markets reports that "Among drugs launched internationally, markets outside the United States account for about 35 percent of total revenues. This share increases over time, with US revenues peaking earlier because of the earlier launch. The median global peak revenue of assets launched internationally was $625 million, compared with $152 million for those launched in the US market only."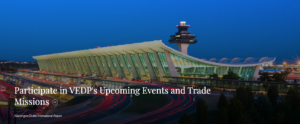 VEDP's International Trade division exists to help you ascertain your export readiness, conduct market research to determine which markets to pursue, understand foreign regulations and mitigate risk, and connect you with partners and customers in your target markets. Not to mention the alphabet soup of grant programs they offer to help you pay for your international marketing efforts. 
Speaking of getting back out there, consider participating in one of VEDP's trade missions or trade shows. They've just published their annual calendar of international events for which they recruit and support Virginia company participation. These events aim to get you in front of your individual company's targets in the given market, meeting with them face-to-face on their home turf. For a trade mission, VEDP's in-country consultants work with you to develop the best possible value proposition for their market, build out a target list, and then conduct outreach to those targets to gain mindshare and deliver a schedule of meetings during the specified week of travel. 
Here's a sample of the VEDP trade missions and trade shows scheduled over the next year (view the full list here):
Trade Mission to Western Europe – Sept. 12 – 16, 2022
The European pharmaceutical market size was valued at USD 282.8 billion in 2020 and is expected to expand at a compound annual growth rate (CAGR) of 5.4% from 2021 to 2028. The growth can be attributed to the increasing healthcare expenditure, a surge in R&D investments, and the emergence of biologics and biosimilars. Furthermore, supportive regulatory framework and reimbursement policies improve the adoption of pharmaceuticals in this region, thus facilitating market growth.
Medica 2022 – Nov. 14 – 17, 2022
Medica is the largest medical trade fair in the world, annually attracting several thousand exhibitors from more than 50 countries. Medica is the place to be if you're looking to network and be seen by decision makers in the European healthcare market.
Trade Mission to Saudi Arabia and UAE – Feb. 12 – 17, 2023
In line with its 2030 Vision, Saudi Arabia is promoting private sector investment within the healthcare sector, including the privatization of the Kingdom's medical cities. Under the National Transformation Program 2020 (NTP), this will see public healthcare act as more of a regulator than provider as more private investors, both international and domestic, are invited to invest in the healthcare sector. Likewise, UAE is intent on being a life sciences hub and is eager to participate in collaborative research and development as it increases its investment in local pharmaceutical manufacturing. Opportunities for Virginia companies include: cardiovascular disease education, prevention, and treatment; diabetes education, prevention, and treatment; childhood obesity education, prevention, and treatment; early diagnosis and treatment of cancers; increasing the percentage of accredited health facilities; and increasing the quality of healthcare services in general.
Trade Mission to Brazil – May 15 – 19, 2023
In 2020, Brazil increased imports of medical devices by 12.9%, reaching USD 6.2 billion. Imported medical devices correspond to 80% of the market in Brazil and the United States represents 16.9% of this share. Brazil is the 14th largest market for U.S. medical devices and second in Latin America, after Mexico. Brazil's Ministry of Health announced investments of USD 83 million by 2020 to digitize the public basic care units of the country's Unified Health System (SUS). Private hospitals are also investing in technology and several new hospitals are formalizing their process by obtaining international certificates for data management and reduction of paper use. The Ministry of Health has established the "Digital Strategy for Brazil" to plan, organize, and boost the integration of digital solutions and platforms in the public system for the period of 2020 to 2028.
Trade Mission to Australia and New Zealand – May 29 – June 2, 2023
Australia imports 90% of the medical equipment used in country, with the U.S. being one of the largest sources of these imports. The Australian medical technology market is valued at over US$2 billion with a compound annual growth rate of 1.4% since 2014. In 2020/21, New Zealand planned to inject a record USD 2.5 billion into hospitals and health services over the next four years. In both countries, opportunities exist for products which integrate digital technology and medical devices such as smart monitoring devices and diagnostics, bionic products, 3D printed or custom-made tissues and organs, artificial intelligence, digital therapeutics, and robotic surgery.
Visit exportvirginia.org and connect your local VEDP International Trade Manager to learn more about these resources.