Danville's investment might mean a CytoRecovery presence in Danville, such as office operations or an internship at Danville Community College. CytoRecovery's cell sorting could improve understanding of disease and development of drugs.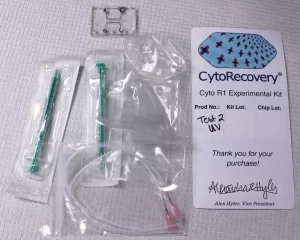 CytoRecovery, an early-stage company that invented and patented less invasive cell sorting, will be able to bring its cell research platform to market after an investment from a Danville-based organization.
This means Blacksburg-based CytoRecovery could have a presence in Danville, according to Stephen Turner, the company's CEO.
"CytoRecovery looks forward to participating in the Danville economy, and is currently reviewing several options to do so, including establishing branch office operations and a collaboration to develop a life science internship program with Danville Community College," Turner said in an email.
Danville's The Launch Place, an organization that works to support entrepreneurs and raise capital, announced Dec. 1 an investment of $250,000 in Cyto Recovery.
This funding "will help CytoRecovery commercialize its flagship cell sorting platform for medical research," a release said.
Specifically, CytoRecovery will bring its Cyto R1 platform to the market after five years of development.
This product "improves the speed and precision of the sorting, enrichment and recovery of live cells from tissue and other biological samples," the release said. "Its technology can quickly isolate, enrich and recover rare, distinct cell populations, enabling their downstream analysis and therapeutic response."
This investment comes after the company's inaugural sale of Cyto R1 to University of California at Irvine researchers in September.
"Having just installed our first system at a major California-based stem cell research center, we have a growing pipeline of prospective customers," Turner said in the release.
CytoRecovery's faster and less invasive cell sorting could improve understanding of disease, development of drugs, and determination of effective therapies.
The Launch Place team chose CytoRecovery for this funding because they believed in both the technology and in Turner himself, who has founded several life science companies, said the release.
CytoRecovery's platform outperforms existing cell separation methods, said Eva Doss, president and CEO of The Launch Place.
"The technology also enables new possibilities in cell research by having broad applications in the fields of oncology, regenerative medicine, hyper-personalized medicine, and pharmaceutical research and development," Doss said in the release.
The two organizations have an existing relationship. In 2018, CytoRecovery received a $75,000 investment from The Launch Place, which guided the startup's development and provided instructions to other sources of funding and potential customers, the release said.
A CytoRecovery branch office operation in Danville would be its first location outside of Blacksburg.
Read more here.