The Virginia Biotechnology Association (Virginia Bio), the statewide, nonprofit trade association representing Virginia's life sciences industry, looks ahead to the industry's next 30 years.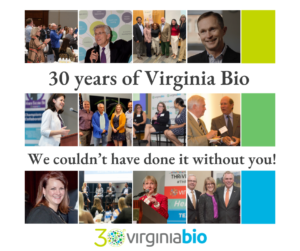 Proudly serving an industry that brings 26,000 jobs and $8 billion into the Commonwealth, Virginia Bio recently celebrated its 30th anniversary with members and supporters. Founded in 1992 amid the "Dot.com" wave with little fanfare, its founders recognized biotechnology as an increasingly important element of Virginia's economy and envisioned a thriving ecosystem supporting research institutions and investments in biotech startups.  This has resulted in a supportive startup environment, deep connections and partnerships resulting in more biotech business activity, broader investment and national visibility. Under its first leader, Mark Herzog, it helped launch the first-ever R&D tax credit for life sciences companies and expanded the money available for angel investor tax credits.
"What Virginia Bio does is complex and multifaceted, and that's why you need a community," said Jeff Gallagher, who became a CEO after Mark Herzog and led the association for seven years. During his tenure and with the help of dedicated volunteers and board members, the ecosystem has strengthened relationships and brought outside capital to the Commonwealth through events such as the Virginia Reception at the annual JP Morgan Healthcare Conference in San Francisco.
John Newby, the current CEO, said he was attracted to the association by its mission. "We support companies that support people to live healthier and longer lives. To see that Virginia Bio helps create partnerships not only within Virginia but also from outside of the state, to be able to put people together and see the magic happen is what makes me the proudest of being in VA Bio," added Newby.
Currently, Virginia Bio's membership is comprised of 228 members coming from bioscience companies and associate members, research institutions, and nonprofits that actively support the ecosystem. The association works with policy makers to support the industry and supports funding opportunities for youth STEM programing through the work of the Virginia Bioscience Foundation. Virginia Bio was recently recognized by the State Council on Higher Education in Virginia as one of the top Virginia employers for interns for its STEM2VA internship program, supported by the Virginia Growth & Opportunity Fund (GO Virginia.)
"While Virginia Bio's first 30 years have been impactful, we are looking forward to the next 30 and beyond," said Newby.  "Virginia Bio's industry support will be imperative to protect and support Virginia's scientific leadership in the areas of neuroscience, diagnostics, advanced pharmaceutical manufacturing and therapies for rare diseases, and beyond."
To keep thriving, the association brings knowledgeable and well-connected life sciences professionals to its board of directors.  Last week, the Virginia Bio Membership elected five new directors to the Virginia Bio Board. Joining the board are Cary Claiborne, CEO of Adial Pharmaceuticals (Charlottesville); Scott Lowman, Vice President – Applied Research of The Institute For Advanced Learning And Research (Danville), Will Mauldin, Chairman, Co-founder, and CEO of Rivanna Medical (Charlottesville), Payam Pourtaheri, CEO of AgroSpheres (Charlottesville), and James Ramey, Managing Director and Fund Manager of VTC Ventures (Roanoke.)
Members also re-elected the following Directors to a new three-year term: Ross Dunlap, President and CEO of Ceres Nanoscience and current chairman of the VA Bio Board; Amrie Grammer, Co-founder, COO, and CSO of Ampel BioSolutions, and Rony Thomas, CEO of LifeNet Health.