Join us at the Virginia Reception at the JP Morgan Healthcare Conference on January 8, 2023!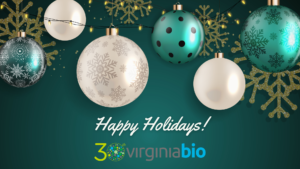 The New Year is nearly here! Your Virginia Bio team wants to THANK YOU for allowing us to partner with you and support all the wonderful things you are doing for our life sciences ecosystem in the Commonwealth and beyond!
It has been an action-packed 2022 as we transitioned back to "in-person" events (hooray!), highlighted by a highly successful THRiVE 2022 in Roanoke and a fantastic 7th Annual Women Building Bio Conference at Old Dominion University. We also attended BIO International in San Diego; Southeast Life Sciences' AdvanSE annual convention and investor conference in Atlanta; the BioHealth Capital Region Forum and Investor Conference in Rockville, and Mason's Accelerate 2022 Technology Showcase and Investor Conference in Arlington. We saw many of our members at these events and witnessed their successes, including Polaris Genomics placing 2nd at the BioHealth Capital Region Investor Conference pitch completion and Capra Biosciences scoring a pitch win at Accelerate 2022! We continued our Commercialization Luncheon series, bringing informative discussions with CSC Leasing, KPMG, The Hampton Roads Biomedical Research Consortium, Zasti, Inc., the Biotechnology Innovation Organization, the Virginia Hospital & Healthcare Association and Accessia Healthcare.
Finally, we continue to support our statewide industry cluster strengthening project, Virginia Bio-Connect, funded by GO Virginia. We were happy to bring an award-winning Summer 2022 STEM2VA internship program (sign up for the Summer 2023 STEM2VA internship program here (employers) and here (students)) as well as a statewide life sciences job fair to our employers and students; provide three Life Science Mentors to our startups in partnership with Mason's Small Business Development Center's Innovation Commercialization Assistance Program; and supported several local networking events across the state.
JPM 2023 is Here! The Virginia Reception at the J.P. Morgan Healthcare Conference in San Francisco on January 8, 2023, at the Mark Hopkins Intercontinental Hotel on Nobb Hill. The JPM Healthcare Conference is the largest healthcare investment symposium in the industry, bringing together industry leaders, emerging fast-growth companies, innovative technology creators, and members of the investment community. Attendance at JPM 2023 is limited, so please be sure to mark your calendars and sign up here to reserve a free (for members) meeting room blocked time at the Mark Hopkins, available for use January 9-11, 7 a.m. to 7 p.m.
JPM Healthcare Week attracts a significant worldwide audience and concurrent events such as Biotech Showcase and the Redefining Early Stage Investments (RESI) conference. From its website: the "Biotech Showcase is the investor conference for innovators [including the] Biotech Showcase, Digimed and MedTech Showcase, SEED Showcase, and Asia Pacific Showcase for three days of partnering, panels and presentations." RESI "connects start-ups and early-stage investors and strategic channel partners… RESI is uniquely cross-border and cross-domain, connecting start-ups with ten categories of global investors across the silos of drugs, devices, diagnostics and digital health." And while these events are indeed big draws, many who attend come purely for the networking opportunities resulting from having so many life science professionals in the same place at one time. If you have any questions about JP Morgan Healthcare Week, please contact Frank Wilton, VP for Membership and Development.
Also in 2023: Virginia Bio is looking forward to attending the annual BIO International Convention in Boston, June 5-8; the BioHealth Capital Region Forum (date and location TBD); and the 8th Annual Women Building Bio Conference in September (location TBD). Please click here to keep apprised of Virginia Bio's upcoming events.
We look forward to continuing our work into the New Year to bring even more useful programing, and to help bring life-saving innovations to our Commonwealth and the world.
Happy Holidays, and we look forward to seeing you soon!
-John, Caron, Frank and Jelena